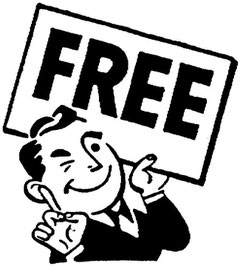 I like to think of doing things for free on social media sites or on your website or for people through your business or life connections for that matter, kind of like how we deal with close friends.  You help them out for free because you like them and you want to help them do whatever it is they are doing.  You know for a fact that your friend will bend over backwards to help you out when you are in need... because you are friends, that's what they do.  They help each other out... for FREE!  
To build relationships you do stuff for free to build trust.  If you constantly are try to sell to your friends... you'll likely start getting less invites to parties.  And that is no different online.  
If you are going to use online marketing you have to build the relationship first before they will trust you.  When they trust you they will want to buy from you because they want to help you succeed.

I read a book... actually read it and listened to the FREE audio of a book called "FREE" by Chris Anderson.  Also the author of another interesting book called "The Long Tail".

His new book FREE really digs into the full economic impact and phycological impact of the free market.  Well worth the read and if you can't afford the book he has the free audio of FREE available on his site.
He gets it!  Because here I am promoting his book... for Free!

Anybody who is in business and especially those in the marketing business should read his book!  It's shift how you think of free.

http://www.longtail.com/the_long_tail/free/
This blog post was actually started as a comment in another blog with the heading,
"Give it Away for FREE, Expect Nothing in Return and Reap the Rewards"
by Conner Galway at Sprout Social: Insights
Check out their Blog post here: 
http://sproutsocial.com/insights/2010/11/give-it-away-for-free-expect-nothing-in-return-and-reap-the-rewards/