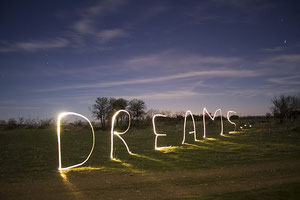 "Why settle for small dreams when you can just as easily Dream Big!"  is my tag line that I use in my business.  

It is so easy to get caught up in the day to day business of life that a person often just forgets to take the time to build in their mind a really big fantastic dream.

If you don't take the time and effort you end up with sort of a default dream, that isn't very specific and is way less than you or your business could really achieve.  Or even worse you will default to your parents dream of what you should be doing with your life!!

Often just sitting down to envision your very own big dream will go a long ways toward making it come closer.  You do have to get your butt off your chair to make it happen... but knowing what your dream is is a great place to start!
The New Year is often a good place to start with having a look at your personal and business goals.  We can, of course, help you with that!  What good is a Marketing Agency called Dream Big Marketing if we couldn't help you figure out you dreams and goals!
We are always happy to take some time to sit down with you and your colleagues or employees and help you define what your goals and dreams are.  The sooner you figure out what your dreams are... the sooner you can start moving towards them!